Every journey that has a beginning has an end, and on Friday, I hope you'll share it with me. RSVP & info here → https://fb.com/events/1624745287656012/
At last, RECKONING, the 3rd book in Andrew's TRUE HAWAII adventure series is coming, just in time for #BlackAndWhiteNight! All 3 parts will be available. Whether you're a local or new to Hawai'i, you'll love this series!
So COME ON BY on Nov 1 at 6-9, just 2 doors down from SPACE & LIGHT center! Plus, when you buy a paperback from the author, you get the ebook version for FREE. Thanks again for supporting local 🌺
Not on the island? Pre-Order it on Amazon now → https://bit.ly/get10K3
WHAT PEOPLE ARE SAYING:
"Through the diary-like prose, you can almost feel and touch the lush, living island and feel welcomed into the Aloha spirit of the communities he befriends. It is an intimate peek into the magic that reveals itself when one is courageous enough to embrace the risk of following their heart, knowing that love rewards the brave." ★ ★ ★ ★ ★
— Jennifer Rose, Founder of Go Lightly Organizing
"The conclusion to the trilogy kept me guessing & was as well-written and satisfying as the first two volumes. In general, this is a story from a mature writer who tackles relatable and human themes, indulges his (and my) inner nerd, and describes Hawaii in beautiful prose. I recommend it highly." ★ ★ ★ ★ ★
— Andrew Durso, Postdoctoral Researcher, Institute of Global Health
"Beautiful book. I finished it in 3 days. It really encaptured the magic of the island." ★ ★ ★ ★ ★
— Wayne W.
"To be honest, I did not expect such well-written material, and I never write reviews so, that tells you this material is exceptional. The author is engaging, genuine, and weaves a wonderful story of his adventures on the island…I highly recommend this extremely entertaining book, and I found I looked forward to every night when it was my reading time… when I finished, I immediately wanted more. Expectantly awaiting Volume 2!" ★ ★ ★ ★ ★
— M. Arney
"It was fun reading about many of the places we visited, from the eyes of a young man living a low budget adventure. His verbal descriptions made me feel I was back there." ★ ★ ★ ★ ★
— Monica Lunde
"The book has a wonderful way of transporting the reader with engrossing clarity. I even learned some new things about my island home that I didn't know! 5-stars." ★ ★ ★ ★ ★
– Catarina Zaragoza, Big Island Business Owner & Longterm Resident
"A great read if you like adventure or are interested in the magical place that is Hawaii island! 5-stars." ★ ★ ★ ★ ★
— Zoë Eisenberg, Big Island Filmmaker
"Andrew is such a talented storyteller who is able to draw you in instantly and keep you on the edge of your seat the entire time… Be warned, this book may give you island fever. 5-stars." ★ ★ ★ ★ ★
– Jennifer Long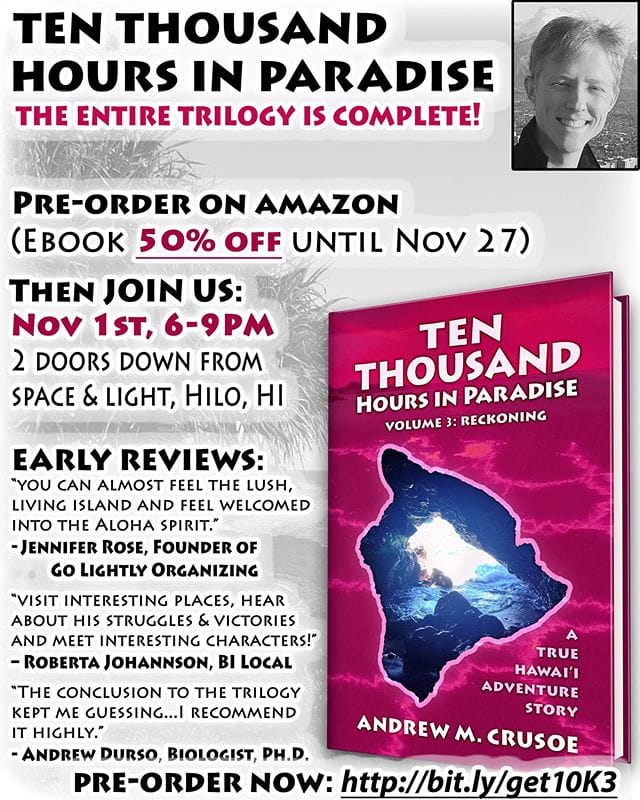 #ecotourism #TrueHawaii #VolcanoGoddess #indieauthor #indiebooksbeseen #indieauthors #bigislandsmallworld #bigislandentrepreneur #hawaiiadventure #luckywelivehawaii