BREAKING: TEN THOUSAND HOURS IN PARADISE – VOL 1 is now up! And if you order before Nov 2, it's 50% off! → http://bit.ly/get10K1 📘
💥OR get the book for FREE ↓
OK, here's the deal, if you share this post on Facebook, Twitter, or Instagram, BEFORE 11:59PM Hawaii time on Friday, November 2, I will send you the ebook edition completely FREE. That's right. I want to reach SO many people with this book that I'm willing to give away copies so that THIS POST makes a HUGE impact. All you have to do is share this post to social media & then shoot me an email with the link to your share. (IMPORTANT: Instagram posts will need to mention @hellocrusoe) Either way, I'll reply to your email & send along your copy! Email me here: amc AT myth.li
Share on Facebook →
Share on Twitter →
Share on Instagram →
Just remember, you have to email me BEFORE 11:59PM Hawaii time on Nov 2nd. So you've got all day Friday, but after that, this offer expires. (This is your ONLY chance to get the book, the product of uncounted hours of sweat, and yes, tears, completely for free. So SHARE AWAY, and thanks again for supporting a local author! ♥️
OH, and if you're on the Big Island, please stop by Friday night to get your Limited "FIRST PRINTING" edition. There will only ever be less than 40 in existence, so if you're a collector, or even if you're not, come on down!
📆 Click for event info → https://fb.com/events/2141093462591878/
EARLY REVIEWS
"The book has a wonderful way of transporting the reader with engrossing clarity. I even learned some new things about my island home that I didn't know!"
— Catarina Zaragoza, Big Island Business Owner
"Vivid description of Andrew's adventures as a work-trader & hitchhiker in paradise. If you want to experience life from this angle, read this book!"
— Roberta Johannson, Big Island Local
"I found it extremely difficult to put down… I was compelled to find out what was going to happen next!"
— Garret Dent, Erudite Reader
"Ten Thousand Hours in Paradise: Arrival is a leisurely & inspiring travelogue. While reading it, I felt a new urge to see Hawaii."
— Andrew Durso, Biologist, Ph.D.
(Paperback coming soon to Amazon, until then it's exclusive to Big Island BookBuyers) Thanks again!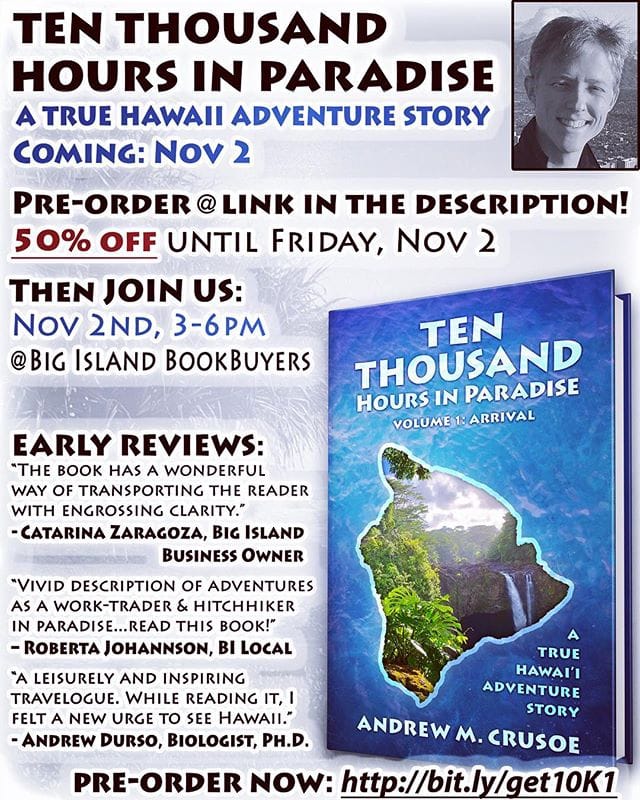 #BigIslandBookBuyers #ecotourism #TrueHawaii #VolcanoGoddess #indieauthor #indieauthorsofinstagram #indiebooksbeseen #indieauthors #bigislandsmallworld #bigislandentrepreneur #hawaiiadventure #luckywelivehawaii