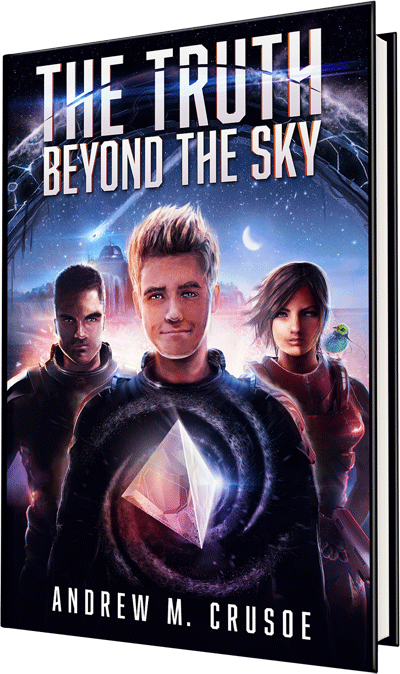 Dubbed a "Highly Addictive, Sci-Fi Adventure!" by critics, The Truth Beyond the Sky is a story you'll never forget.

Description
Twelve years after his mother's disappearance, Zahn makes his annual trip up to the island summit — only to be awoken by a brilliant object thundering down from the sky, setting off a chain of events that takes him face to face with a living starship and its cryptic pilot.
For the first time in his life, Zahn has the chance to learn the fate of his mother.
But to do that, he must go to the galactic core where he encounters the Vakragha, a species bent on consuming entire stars. To Zahn's horror, he learns that they're heading toward his homeworld. Only the Tulari stone, which has been missing for aeons, can stop their all-consuming wormholes.
But saving his world from armageddon isn't all he has to worry about. Just when Zahn lands on a moon stolen by the Vakragha, he makes a breakthrough, finally learning his mother's true fate. Now he is faced with a heartbreaking decision that could either save his world or doom it forever.
Enjoy a sample on:
What the Reviewers say:
"This is a great story…Definitely an amazing adventure for all…The descriptive scenes captivate the imagination and one truly feels a part of the story."
★ ★ ★ ★ ★

~ River Rose [AudiobookReviewer.com]
"Crusoe has a talent for putting us beside the hero on this grand journey… integrating deep metaphysical concepts with some very original and creative science fiction."
★ ★ ★ ★ ★

~ Austin Bridges [Asst. Director at LL Research]
"…it was tough to look away. What's really interesting about this book is how multi-layered it is. At its base, this is a book about a boy who is in search of his mother. However it's so much more than that. Zahn's story manages to pull from the world around us, while also incorporating elements of mythology and hero epics. This is a coming-of-age story of the highest caliber."

~ Jessica Nottingham [HopelessBibliophile.com]
"Readers of the Law of One (Ra Material) books may find familiar the philosophical thread woven throughout…In my view, that makes this book a rare gem in the genre. I'm not exaggerating when I say that the underlying philosophy of the book, the mythos, shares much in common with the best of metaphysical literature."

~ Thomas Minderle [Author of Fringe Knowledge for Beginners]
"A swift & compelling read! I recommend it if you enjoy science fiction epics."

~ Michael Coorlim [Galvanic Century series author]
"I was immediately drawn in by the vivid descriptions…The author has a knack for fully immersing a reader into the hero's plight, and I felt like I was hurtling through corridors of light alongside Zahn."

~ Erica Lane [FantasyBookLane.com]
"Overall I give this book 5 out of 5 stars and the narration 7 out of 5 stars because it was that good. I definitely recommend this book to sci-fi fans, and if you have any interest in audiobooks, spring for the audio. You won't regret it."

~ Katie Harder-schauer
Only through reviews and word-of-mouth has The Truth Beyond the Sky grown to where it is today. Thank you to everyone who has written a review!
Articles Reviewers have published on the book:

Also, be sure to check out the reviews of book 2 at "The Island on the Edge of Forever" page.
Some Fun Bonus Reviews
While the views below are not from pro-reviewers, they provide even more data on what people think of the book, so I've included them below.
This was a very enjoyable light read that was quite difficult to put down; I found myself up until 2 AM a couple of nights. It is good science fiction which does not delve into heavy techie details of the objects that are beyond the technical abilities of the main character, Zahn…As the author says about his writings, 'transcending' one's self is needed to be learned. This skill is the only way to get their message to the Council; an interesting twist you don't find in many stories of this genre which I found interesting…I really do appreciate how polished this story is…I am ready for a continuance. Thank you, AMC.

~ Retired Techie (Amazon Reviewer)
A most enjoyable tale of friendship,challenges and space lore. Who is to say none of this could be real? Looking forward to the continuation.

~ T. Roth (Amazon Reviewer)
I think the hardest genre of literature to write and write well is Sci-Fi. We have some scientific information but the writer has to weave a cohesive story around the known facts and use his imagination to make an excellent story. This book does this with well-developed characters taking part in many suspenseful episodes in space…This is the kind of book you would like to read straight through just to see what happens next. Good story, good characters. I would let any of my older "young-people" read this. They would probably give high marks if they are Star Wars fans.

~ Lindah (Amazon Reviewer)
Congratulations to this gifted author that is able to get me to imagine new worlds. I think the appeal could be quite extensive, from the "coming of age" genre, to all the people like me who enjoy exploring alternate realities.

~ Jeri A. Ramirez (Amazon Reviewer)
Review the Book or Interview the Author
If you're an SF reader and review books on your site, feel free to contact me for a free copy of the book. I'm also available for interviews.
And be sure to check out the book on Amazon →
Thank you 🙂