Get 3 FREE ebooks instantly when you sign up for occasional, short updates from your friend Andrew Crusoe 🙂 → Tap Here to Sign Up ←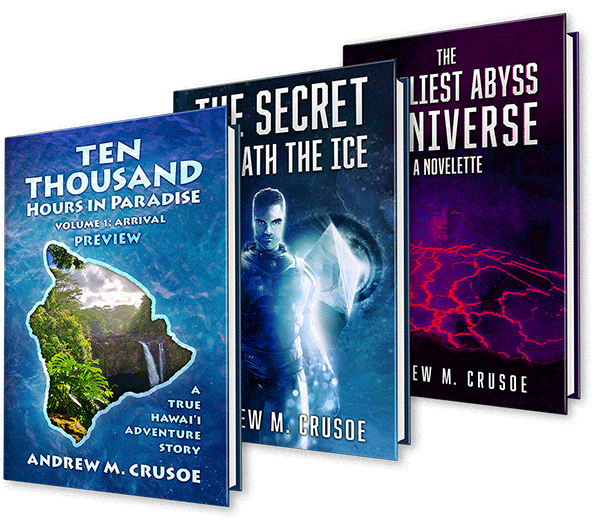 By signing up, you get:
NEW: Now you get TEN THOUSAND HOURS IN PARADISE: Preview, which includes the first 4 chapters of the book, in ePub & beautiful PDF, for free!
Sneak peaks at New Releases, including exclusive glimpses of my True Hawaii Adventure, TEN THOUSAND HOURS IN PARADISE
The opportunity to Beta-Read unreleased work
The chance to get Advance Review Copies (ARCs) of upcoming books
Be the FIRST to know about upcoming giveaways (ebook & paperback)
You'll also be sent your Free Sci-Fi Starter pack, which includes two ebooks: The Secret Beneath the Ice and The Loveliest Abyss in the Universe
Get Exclusive Bonuses:
Want access to unreleased book excerpts?
What about exclusive Hawaii photos that you can't get anywhere else?
Want the opportunity to ask questions I won't answer anywhere else?
Then you'll LOVE my Patreon.com page. Bonuses start at just $1/month. You can cancel anytime, plus you have the pride of knowing you're supporting my work directly, and it means so very much. See all the exclusive bonuses on my Patreon →