Ten Thousand Hours in Paradise: Arrival
Listen to a 3-min Sample:
Get it on:
What happens when you hear the call to fly to the most remote population center on Earth, home base for ecovillages, black sand beaches, and a volcano goddess living in a molten lake of lava? You GO!
Upon landing, Andrew feels instantly welcome. On his first night, a new friend asks him if he'd like to go on a volcano adventure with her. "Are you serious?" he says. "Yes, of course!"
After picking up some gas masks the following day, they head to Hawai'i Volcanoes National Park, hiking down a secret road toward a massive red glow in the distance. By nightfall, Andrew and his new friends are standing on the edge of a huge lake of bubbling lava, radiating a warmth that feels like the sun on a cloudless day. Its beauty leaves him speechless, and they've brought food. His friends call it "extreme picnicking," but his adventure has only just begun.
Ten Thousand Hours in Paradise: Arrival is the first in a three-volume true story about the consciousness shift that happens when you embrace Hawaii. Volume 1: Arrival soars with pure adventure, unrequited love, deadly lava, mysterious UFOs, ecotourism, and fascinating characters that you'll never forget.
NEW: Ten Thousand Hours in Paradise: Tribulations
Listen to a 4-min Sample: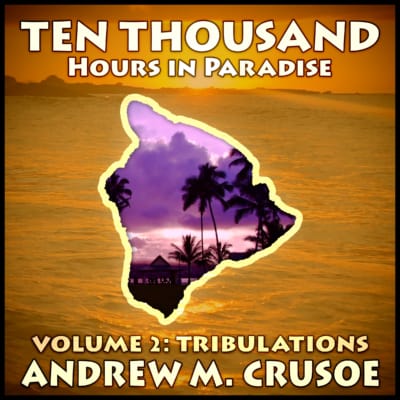 Get it on:
Even five months on the Big Island can change you forever. Being invited to visit the fiery home of Madame Pele, getting scared half-to-death by a UFO hovering over a lava field, and manifesting a blue feather out of thin air has that effect.
Yet Andrew's most powerful transformation was still ahead.
A routine hitchhiking trip into town brings a new person into Andrew's life that just might have the perfect opportunity for him. His new friend is a volunteer at a Vipassana meditation center. She invites him to join her on a 10-day silent meditation course and then live near the meditation center afterward, doing a very different kind of work-trade than he's ever done.
Andrew accepts and plunges into an intense experience, delving deeper into his mind and body than ever before, unearthing trauma that he thought he had healed long ago. In the process, a profound realization hits him and propels him into a new chapter of his life.
Ten Thousand Hours in Paradise is a three-volume true story about community, sustainability, and a remarkable journey on the Big Island of Hawaii. In Volume 2: Tribulations, Andrew dives deep into a life-changing Vipassana meditation course, gains a new perspective on unrequited love, and is wished "Happy Birthday" from a man beyond the grave.
NEW: Ten Thousand Hours in Paradise: Reckoning
Listen to a 5-min Sample:
Get it on:
From seeing the hidden fractals within the trees, to meditating in silence for 10 days, to falling in love and seeing that love crumble, the Big Island gives Andrew unparalleled opportunities to grow. Buoyed by a new project, Andrew starts off the new year with a fresh energy and is guided to the biweekly talks of a Hawaiian elder.
The elder reminds him of truths that he'd forgotten, and he leads the group through the healing techniques of laulima and ho'oponopono, giving Andrew a new energy to release the last shred of attachment to a person who simply doesn't want to be with him.
Now that he has created more space and clarity, his social circle expands, and Andrew meets someone who becomes one of the strongest catalysts for joy and growth in his life. But she is leaving the island in just six months.
Andrew faces a forking path. All the while, lava is heading toward Pahoa, threatening to isolate all of Puna. The elder taught him that love prevails over all trauma, but will that be enough?
Ten Thousand Hours in Paradise is a three-book true story about the consciousness shift that happens when you embrace Hawaii. Book three, Reckoning, takes flight with earthshaking changes, powerful healing, a new lava flow, and a hurricane, resulting in a reckoning that changes Andrew forever.
The Truth Beyond the Sky
Complete with original music, professional narration quality, and even a few sound effects for deeper immersion, The Truth Beyond the Sky audiobook is a wonderful way to experience the 1st book in the Epic of Aravinda.
And I am so proud of the work pro-narrator Jeff Hays and I have been able to produce.
Description
Twelve years after his mother's disappearance, Zahn makes his annual hike up to Zikhara Peak to sleep above the clouds – only to be awoken by a monstrous roar. He watches as an extraordinary object thunders down from the sky and impacts onto the silvery beach below, changing the course of his young life forever.
The object is far more than a mere meteorite, and Zahn is swept up into an adventure to the galactic core. He encounters a stunning pilot, fifth-density creatures of light, and an ancient chthonic evil bent on consuming every star in the galaxy by tearing the fabric of space-time itself. Only the Tulari, a stone that can heal these fissures, offers any hope to Zahn and his new friends. Unfortunately, it's been missing for aeons.
The Truth Beyond the Sky is the first book in the Epic of Aravinda – a transcendental, sci-fi action-adventure series.
Get it on:
The Loveliest Abyss in the Universe: An Aravinda Short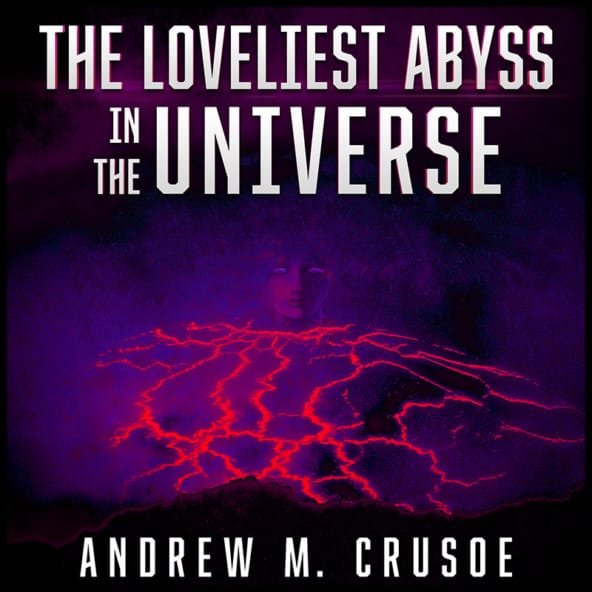 This one isn't exclusive to Audible.com, so you have a LOT more options on where to buy it, usually under $3 in most places. 🔥
Store links are above.
Listen to the 5-minute free preview here →