I have one last must-see Chicago attraction to tell you about: The Art Institute of Chicago. Many of the planet's most notable impressionist art makes its home here, in downtown Chicago.
The Art Institute of Chicago (which will henceforth be referred to as the AIC) spans an amazing one-million square feet, making it second only to Metropolitan Museum of Art in New York. Approaching it from the street, you probably wouldn't guess it's so vast. Only after you've found yourself wandering, and getting lost in the sheer scope of it, will you begin to appreciate the immenseness of this world-class museum.
Put simply, the AIC is a tour-de-force of modern and post-modern art.
Marinara That'll Turn You To Stone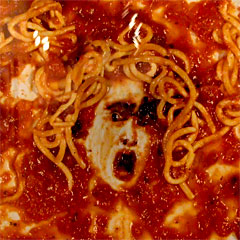 Paintings and sculptures you've heard about, and seen photos of for your entire life, live here. Because it's featured in the introduction of a well-known television drama, many people will be familiar with the duo of paintings, "Adam & Eve" by Lucas Cranach, for instance. And fans of the board game Masterpiece may recognize "Old Man with a Gold Chain" by Rembrandt, if they aren't already fans of Rembrandt to begin with.
Aside from the major "rockstar" pieces of the museum, there were also more unusual creations, such as a darkened sculpture room filled with hauntingly black square pillars and a photo of the head of Medusa created entirely out of spaghetti entitled "Medusa Marinara". (And I must say, seeing Medusa's image interpreted in Italian cuisine is pretty hilarious.)
But even if you're not an Art History major, you're sure to appreciate two paintings in particular. The first is the unparalleled "Nighthawks" by Edward Hopper. Finally seeing this painting in person was a special treat because I've always enjoyed the nostalgic way the painting evokes the era it depicts. If you really gaze into the painting, you can almost feel the hard, cold wood of the curving bar. Beside the painting, a sign said it:
…was inspired by "a restaurant on New York's Greenwich Avenue where two streets meet," but the image, with its carefully constructed composition and lack of narrative, has a timeless quality that transcends its particular locale.
Indeed it does.
"A Sunday on La Grande Jatte" was just Incredible
But without a doubt, the painting I was most excited to see, and the painting you'll probably recognize the most, is "A Sunday Afternoon on the Island of La Grande Jatte."
Painted by Georges Seurat (pronounced Soo-rah), this painting is one of the truly priceless works in the museum. I was first exposed to this lovely painting when I saw the movie "Ferris Bueller's Day Off" many years ago. Yet when I first entered the museum, I wasn't sure I'd be able to see any of Seurat's famous work because I'd been told much of the art had been temporarily shipped to a museum in Texas due to remodeling that was being done. So, you can imagine how glad I was to hear that they did keep one of Seurat's paintings. And not just any one: the one which is perhaps his most famous.
Seeing "A Sunday on La Grande Jatte" in person was pretty amazing, and I even had time to take multiple macro photos, each getting progressively closer to the painting to capture the tiniest detail. I would certainly never touch the glass that's over the painting, but I did take a macro photo close enough so that you can see even the individual brush strokes that reveal the style in which it was created. Do you see how everything is actually made up of tiny dots? That's because this painting was created in pointillism style. Check Art Institute of Chicago album for the macro photos that reveal this detail in full size.
The Museum Itself is an Icon
You don't have to be an Art History major to enjoy this museum. It features many of the iconic images you've probably seen before, but seeing them in person delivers a more personal, and more real, emotional impact.
I only spent about 2.5 hours exploring the museum because much of it was inaccessible due to the remodeling. I expect that if it weren't being remodeled, it would require an afternoon to really to it justice. And if you want to save some money, take advantage of the Free Thursday evenings from 5 to 8 PM. (Subject to change. Check website to make sure.)
A delightful and educational experience, the Art Institute of Chicago is not to be missed. From the truly saucy pieces like the "Medusa Marinara", to the sublime views of "A Sunday on La Grande Jatte", the AIC spans an impressive range of artists and periods. It's a real gem.
So get down there and check it out before they remodel again. For all I know, for the next remodel they could ship the Seurat to Spain!

Note: The author of this website does not make any claims to know the future movements of any Seurat works of art, painted or otherwise. Such claims are purely comedic and probably not even that funny. When questioned, the Kingdom of Spain declined to comment.
But seriously, what is the deal with that medusa marinara?
---
Photos from this trip are in the Art Institute of Chicago album.