Today I'm going to take you into the depths of the Denver Art Museum. You're going to see photos. You're going to watch video. You're going to hear stories straight from the horse's mouth. But most importantly, you're going to be surprised at what lies inside.
Now, let's start off with the big, controversial question:
What is art?
This question has been posed for hundreds, probably thousands, of years; and the answer will forever vary from person to person. After entering the Denver Art Museum and heading up the stairs, a sign on a blue wall posed this question to me. Visitors were instructed to write their own answer to the question "What is art?" on a blue piece of paper and stick it to the wall.
Some of the answers people posed were insightful, some were hilarious, and didn't even consist of words at all. My favorite answer hinted at a higher truth through its humor (and we'll come back to that later); but as it turned out, the contents of the museum itself answered the question best. The closest I can come to summarizing this answer into a single sentence is that: Art is simply a product of the Imagination brought into reality. That's it. And as with most answers to abstract questions, what I found in the museum may surprise you, so I've gathered the top 5 biggest surprises at the Denver Art Museum here for your reading pleasure.
Surprise #1 – The Museum's Extraordinary Architecture
In a previous article, I mentioned how wacky and fascinating the Denver Art Museum looks from the outside, but it's even more extraordinary on the inside. The first floor stairwell is one of the first things you'll see when you visit, and it's a great example of the kinds of angular shapes that you can expect to see when you come. See those three blue dots towards the top right of the photo? Those are LEDs that make up a work of art called ENGI by Tatsuo Miyajima which features 80 of these small LED number displays. These LEDs, which cover parts of the walls and ceilings of this part of the museum, display numbers from 1 to 9 at varying speeds.
To create ENGI, Miyajima asked a few Denver citizens for a four-digit number that meant something to them. This four-digit number was then plugged into a computer program that controls how fast an LED display cycles from 1 to 9. The ENGI digits were interesting to watch, and they made the strange architecture seem more alive. You can see more examples of how ENGI is used in the Denver Art Museum photo album.
Surprise #2 – Bizarrely Hilarious shortfilms
Tucked away on in a cavelike room on the second floor is a small darkened theater playing a series of very odd (but very funny) shortfilms by Bjørn Melhus. This one is called "Captain"; and it was pretty hilarious because Melhus borrowed sound clips from episodes of Star Trek and sci-fi movies and inserted them into the movie. In some versions of this movie, the man in the center has James T. Kirk's voice. In other versions, the older man has the voice of a young woman, and the result was really amusing. The way the Melhus inserted sound clips from other works makes it similar to a song mashup.
Surprise #3 – Weird Interactive Art
Now this one is called Zero, and it's really bizarre; I didn't like it at first. Basically, this is a doll inside of a suitcase with a projector aimed at its face. The projector is connected to a DVD player, and it projects a video of a face onto the dolls face, thereby giving it the illusion that the doll is looking around, and even talking to you. The face would often call out to people looking at it, and occasionally yell at people. Yet after a while, in a saddened voice, it would ask if anyone was still there. I can't even begin to accurately hypothesize what "Zero" meant to its creator Tony Oursler, but it was delightfully strange and somewhat hilarious.
Surprise #4 – Awesome Exhibits like the Psychedelic Side Trip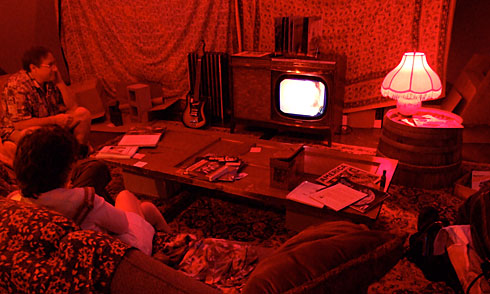 Without a doubt, the Psychedelic Side Trip is one of my favorite temporary exhibits I've ever seen… in any museum. As you can see above, right as you walk in you feel transported backwards in time to an era where clothing, music, and communication were changed forever. This highly-accurate replica of a 1960s living room is complete with a tiny 4×3 TV, musical instruments, and light fixtures from the era. (Wow, that sentence almost makes the 1960s sound like they happened a hundred years ago! But you can't deny that we're in a different era now.)
The entire Psychedelic Side Trip exhibit was contained in a very large room divided into separate sections, and it was one of the most interactive art exhibits I've ever seen. Past the replica of the living room was another room with a bathtub full of pillows (as was the style back then) and some tables with famous magazines from the era. Beyond that was a table where visitors could create their own psychedelic posters, and nearby many classic LP records from bands like Jefferson Airplane, Santana, and the Beatles were on display.
The entire exhibit fostered creativity among the visitors. Around the corner you could even make your own light show on the wall using colored oils. It may not sound so entertaining, but it was actually a blast.
Another fantastic interactive element was a video phone booth. You could sit down, close the phone booth, and briefly talk to a camera about your thoughts on the 1960s. When I visited, this part of the exhibit wasn't completely working, but when doing research for this article, I discovered that the museum had uploaded 693 of these videos to YouTube. Yes, you read that correctly: SIX-HUNDRED AND NINETY-THREE videos. So apparently the art museum kept a lot of what was recorded there.
And some of the videos are pretty entertaining to watch, even if the people who created them weren't even born until decades later. Here's a great example:
They're all 50 anyway, so it doesn't matter. Their time has ended, and now it's our time… and we're going to play guitar hero! (They didn't have guitar hero back then.)

~ Anonymous Young Museum Visitor
Classic.
And to finish up this section, here's a short story about the 1960s from people who were there to experience it:
Yet another example of why you should explore while you still have time. (And you gotta love how the guy in the video mimes the reactions to her story. If you didn't watch him the first time, I recommend you watch it again and pay attention to his face. It's pretty funny.)
However, I've got bad news. Unfortunately, this exhibit won't be a permanent part of the Denver Art Museum. But lucky for you, the Denver Art Museum has extended the life of this exhibit to July 26, 2010; so if you're headed to or thru Denver any time soon, don't miss out on this opportunity.
If you're curious, there's a lot more information about the exhibit over at the exhibit's section (retrieved from archive.org as the page has since been taken down) of the Denver Art Museum website, and you may want to check out their YouTube channel, as well.
Surprise #5 – Super-sized works of Art you can walk around in!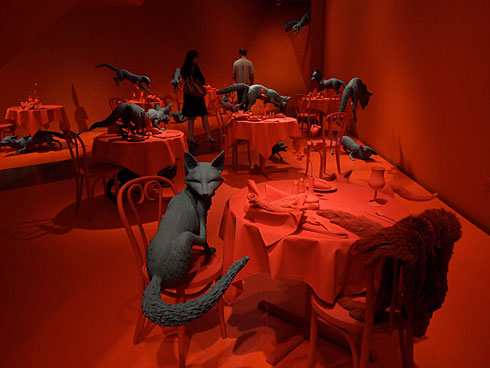 The fifth and final big surprise the museum had in store was Fox Games by Sandy Skoglund, which is basically a room that is an art piece itself. As you can see from the above photo, it features a series of dining tables and sculptures of foxes jumping all over the room. That alone isn't so strange or surprising, at least for an art museum. What's surprising is that, except for the foxes, everything in the room is BRIGHT red, including the silverware, cups, and the chairs themselves. It's definitely a strange sight to behold, and luckily there's a path that leads you thru the exhibit so you can see this scene from all angles.
While I explored Fox Games, I overheard someone mention that there was actually a single red fox hiding in the midst of it all. I found him, and I wondered why this fox was red when all of the others were grey. Then, after looking again and thinking about it, I realized why. If you figure out why, let me know in the comments! (It's easier to see why if you look at the picture of the single red fox in the Denver Art Museum photo album.)
The Funniest Answer
After reflecting on my time spent at the Denver Art Museum, my favorite answer to the question "What is Art?" is:
"Art is my uncle!"
As funny as that may sound, it also hints at a higher truth: Art is in the eye of the beholder.
I certainly saw this expressed in the museum since it included everything from blinking numbers to a bizarre talking doll to a living room itself being an expression of art.
Yet perhaps the most surprising thing is that the funniest answer to the question "What is art?", might actually be the truest answer of all.
---
Photos from this trip are in the Denver Art Museum album. All photos in the Gallery can be used as widescreen desktop wallpapers because they are high resolution (1920×1440).