Back when the leaves were still completely green, I took a bicycle trek of exploration.
As is my habit when taking bike rides, I simply wandered around without a final destination in mind, gliding down the hill and making a right turn down a rocky road this time. The rocky road was long and jiggled the whole bike as I progressed, but I continued on because I knew what was at the end.
I soon reached the eastern dam's power station, feeling the faint humming sound from the huge transformers resounding in the area. About a year before, I discovered a small path beyond the sand near the power station. I parked my bike in the sand and walked down the short path to the lower shore. The edge of the river reminded me of the ocean, and to my left I could see the old dam roaring in the distance. The shore continued to my right, and I slowly followed it as it became narrow the further I went. I came upon a fallen log lying in the river and sat down on the side above the land.
Sandals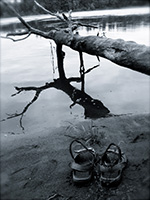 The clean sand seemed to be begging me to take my sandals off. I considered this and decided that it was safe. With the sand firmly beneath my feet now, I began to realize what a peaceful place this really was. I decided to walk into the river and immediate felt much more connected to the Earth and my surroundings. This time, I sat down on the side of the log which was slightly above the water and waded my feet, allowing the surroundings, the breeze, the waves, the scent to begin to heal my busied soul. I sat there for some time in silence.
Photos
I thought it would be a good idea to see if I could capture some of the feel of the place, and began snapping photos in a rather random manner. You may view the photos in the Sandals and Footprints album in Byteful Photos. While just a tiny sliver of my experience, the photos herein do capture the feel of that place. I am especially pleased of the final photo, which is at the heading of this article, called "Footprints to the River". When I returned to my computer, I experimented with exposure and decided to change the photo to black and white. Combined with some inexplicable edge-blur, the photo inspires a sense of tranquility and hope in me.
In the end, I am so glad that I went beyond my comfort zone and removed my sandals. By opening myself up to feel sand between my toes, I also opened myself up to make a deeper connection with the Earth.
---
Photos from this trip are in Byteful Photos. All photos can be used as widescreen desktop wallpapers because they are high resolution (1920×1440). Enjoy!