Even though San Francisco's Lombard Street is better known for its insane, hairpin turns than for its view, what I saw from the top of it on that beautiful summer afternoon was surprisingly beautiful.
But I'll come back to that in a moment.
If you're not familiar Lombard Street, it's the epitome of how delightfully wild San Francisco roads can be, not to mention that it's now known as the most crooked street on the planet.
Why, you ask?
San Francisco is a city of hills. A LOT of hills (over 40 of them), and engineers in the 1920s really wanted to continue Lombard Street westward. The only problem was Russian Hill, which was at a 27% grade. (That's really frackin' steep.) The solution? Curves! The kind of curves that make your tires beg for mercy.
Engineers realized that to build a street on such a steep grade, it would have to curve back and forth in order for vehicles to use it safely. In the end, they built Lombard Street to consist of 8 sharp turns (or "switchbacks") resulting in one of the weirdest streets ever built.
Coit Tower is pretty easy to walk to even if you're on the east side of the city. Despite the fact that the Coit Tower looks relatively small in the 2nd picture below, I only had to walk seven blocks from the tower to reach Lombard Street. Just under a mile. And on such a beautiful day as that one, my feet welcomed the opportunity. When I arrived, however, my faith in humanity was challenged.
Standing in an Intersection
Just before the street were a dozen or so people taking their pictures in front it. This didn't surprise me. The fact that many of them were standing right in the middle of the road was what concerned me. Now, to be fair, the traffic on the road was pretty light, perhaps one car every minute or two; but these people lingered like flies at a picnic. And no amount of shooing was going to work.
Dear Lingerers, I'm sure your photos are radical and great, but I don't care if you're Ansel Adams. It's just not a good idea to linger in the middle of the road unless someone is bleeding or something. Am I wrong?
The sheer nonchalance of these people was somewhat disturbing.
Anyway, brushing aside the pedestrians who may or may not have had a secret death wish, I made my way up Russian Hill. Although cars are only permitted to go one way on Lombard Street (down the hill), I was happy to see a pedestrian path that led upward. And as I scaled the hill, I took some pictures of the view behind me, resulting in my favorite picture from this photoset: the one of Coit Tower and Lombard Street in the same shot. In a single photo, I managed to capture two stunning San Francisco landmarks, and it turned out beautifully.
I love being in the right place at the right time.
And on that day, it happened more than once.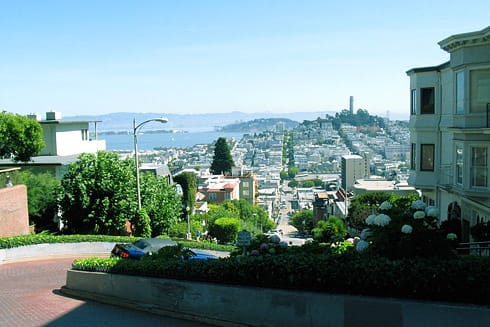 Where's Marco?
Just like with every travel photo I've released since December 2010, Marco the Spacefarer followed me that day and therefore appears in all 7 photos in the photo gallery that accompanies this article. The "Where's Marco" game is like Where's Waldo or "I Spy", but more challenging. In fact, I'm considering putting up hints that show what he's near. Would anyone be interested in that?
If you're new to "Where's Marco", learn how to play →
Can you find him in all 7?
Explore the Lombard Street photo gallery →
Coming up Next:
And even after walking to Lombard Street, my feet still carried me onward, leading me past a pack of wild segways (a vehicle that is not exactly known for how dignified the driver looks while riding it), along the bay's coast, and up to the northern tip of the peninsula where I made an important discovery:
There is an entire Civil War-era fort underneath Golden Gate bridge. And I could tour it for free. My explorations of the fort, and my 4 mile journey to it, is in the next article:
---
All photos from this event are in the Lombard Street photo gallery. All photos in the Byteful Gallery are under a Creative Commons license. With so much free content on Byteful Travel, why not tell a friend?