A sane person would have taken a bus or a car up to Coit Tower, but I didn't.
Instead, I walked the wild San Francisco streets up to the top of Telegraph Hill. To scale that 83 meter hill, I even walked up stairs at points; and when I finally reached the Coit Tower parking lot, I was rewarded with a view of the bay and Alcatraz Island in the distance.
Little did I know I was about to get my socks knocked off.
At the ground floor, there's a rather unimpressive gift shop filled with small pieces of memorabilia and knick-knacks that you might find yourself purchasing if you wanted to send a souvenir home. Yet my intuition told me to hold off buying anything for now. First, I'd see the top.
Ascent to the observation deck is mostly uneventful. To get to the top there's a small fare and an equally small elevator, and after that they've even added some more stairs for good measure. But the view… Such a view of San Francisco I'd never seen before, even from an airplane. Here at the observation deck, the entire skyline was wrapped around me like a blanket, and through windows I could see slices of that skyline in small portions.
To the north, I saw Alcatraz Island and Pier 39. To the east, I could see the Bay Bridge. To the south, I could see the Transamerica Pyramid, the tallest skyscraper in the city. And to the west, I could see the rest of San Francisco atop rolling hills. From here, Washington Square looked like an amazing oasis of green among lightly-colored buildings.
A Freshly-Pressed Memory
Once again listening to my intuition had paid off, because up there on the Observation Deck was a penny pressing machine. For 50 cents you could have the symbol of Coit Tower pressed onto a penny, complete with the words "Coit Tower – San Francisco" imprinted on it.
"Perfect!" I thought and put two quarters in the machine. After waiting a few moments, my freshly-pressed penny dropped into a receptacle below, and I snapped a photo. I instantly knew that this souvenir was for my brother.
He'd love it.
On my way back down to earth, I thought about what else was still in store for that day. It was only lunchtime, after all; and the weather was warm and clear. The sky was entirely clear (a true rarity for San Francisco) and the entire city seemed to be begging me to explore. So I began heading west on Lombard Street to see the most curved street in America.
Just before I arrived at the wildly-curving portion of Lombard, I looked behind me and snapped one last picture of the tower. From here, the tower and the hill almost looked out of place, as if from a slice of another reality, completely different from the urban landscape around it.
An oasis.
And so it is.
Photography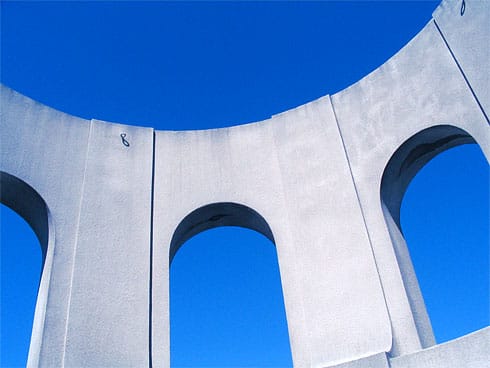 The Building of Coit Tower

When Coit died in 1929, she left one-third of her estate to the City of San Francisco, asking that the money be spent, "…in an appropriate manner for the purpose of adding to the beauty of said city which I have always loved."

In 1931, Supervisor Herbert Fleishhacker proposed using the funds to construct a memorial for the beautification of Telegraph Hill, and the executors agreed. Arthur Brown, Jr., the architect of City Hall and the War Memorial Opera House, won the design competition and, with the assistance of Henry Howard, designed Coit Tower in the Art Deco style with a budget of $125,000. The simple fluted shaft, filled with PWAP murals, is now a San Francisco icon, visited by residents and visitors alike. Congratulations to Coit Tower on its 75th anniversary!

All items, unless noted, courtesy of the San Francisco History Center, San Francisco Public Library

~ Plaque at the base of Coit Tower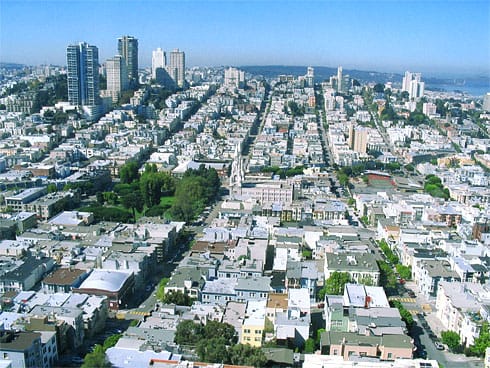 Where's Marco?
Just like with every travel photo I've released since December 2010, Marco the Spacefarer followed me that day and therefore appears in all 15 photos in the photo gallery that accompanies this article. The "Where's Marco" game is like Where's Waldo or "I Spy", but more challenging.
If you're new to "Where's Marco", learn how to play →
Can you find him in all 15?
And also remember to:
Explore the Coit Tower photo gallery →
Coming up Next:
The insanity of the most crooked street in America, a stunning view of two major San Francisco landmarks, and the pedestrians who wanted to die:
---
All photos from this event are in the Coit Tower photo gallery. All photos in the Byteful Gallery are under a Creative Commons license. With so much free content on Byteful Travel, why not tell a friend?