Before I actually went and wandered the streets myself, I never realized how dynamic and incredible San Francisco could be.
Today we get a first look at San Francisco, where I discovered a store only for Left-handers, stumbled across an awesome free magic show, felt like I had parade thrown in my honor, and more.
Now, to be completely honest, I'd been here before as a kid, but I'd never had the opportunity to explore it independently. Being there as an adult obviously changed everything. And as it turned out, I'd picked just about the perfect day to begin my San Francisco explorations, and not just because it felt like a parade was thrown in my honor… but we'll get to that.
Can you eat and juggle at once?
My explorations began at Pier 39, a famous pier that had basically turned into its own street over the years. From candy shops to fresh fruit, there were certainly plenty of things to eat here. And if you wanted to empty your stomach rather than fill it, there was a full-sized carousel nearby, as well. 😉
Towards the end of the pier I spotted a little shop whose uniqueness really caught my eye. They call it "Lefty's".
Even though it's a pretty small place, I really enjoyed checking it out, and not just because I'm left-handed. They had fridge magnets with witty leftish sayings, and left-handed… everything. You name it, and they probably had a left-handed version of it, including notebooks and pencils. (The pencil bit is true. "Left-handed pencils" were for sale. Only in San Francisco could something like this be sold.)
And then there was the magic show.
When I left the store, I noticed a man on a nearby stage performing magic and doing various other feats, as well. And not the kind of feats that make you roll your eyes, either. He was doing some rather fancy stuff, like eating and juggling simultaneously. But the bit that really stuck in my mind was an audience participation activity that I'd never seen before: he created an 8-legged human chair.
How to do the 8-Legged Human Chair Trick
To make a human chair, you start with 4 normal chairs arranged in a circle, pointing four different directions. You then get four victims to sit in the chairs, and you then pull out the first chair. After you pull out the chair, you tell that person to lie down on the person's lap behind them. You do this with all four chairs and… well, you'll see soon enough.
I watched the magician pull the chairs out, one by one. And when it seemed as though the four guys were on the brink of utter collapse, he finally pulled the last chair out from under them.
But no one fell. In fact, no one scarcely moved at all.
The 8-legged human chair was supporting its own weight!
The tricky part came when they wanted to get up. All of them were too afraid to get up because each knew they would start a chain reaction that would cause all of them to collapse. So, carefully, the magician told them all to grab his arm for support. They still all collapsed; but, thankfully, it was a graceful collapse onto the stage and painless compared to what it might have been without his help.
Seeing Alcatraz Island
Now that the magic show was over, I wandered over to the north end of the pier and looked across the bay. It seems that my timing was perfect because a magnificent white sailboat was passing near the pier at that moment.
Only today did I realize, while post-processing these photos, that I'd actually taken a picture clear enough to make out the name of this sailboat. In the closest photo (which is in the accompanying gallery), you can clearly make out the name "Naniloa" (which means "most beautiful" in Hawaiian) inscribed on the side.
It was quite beautiful.
And behind this beautiful sailboat was something that was quite the opposite: Alcatraz Island, still looming like a mysterious shadow over San Francisco bay even after all of these years.
A Parade in my Honor?
Having explored Pier 39, I wandered over to Chinatown before I had to start heading back. Unfortunately, I wasn't able to explore Chinatown as long as I would have liked due to time constraints, but it did feel as though I'd stepped into a different country. The vibe of the air itself seemed to have changed. And, to my great surprise, just minutes after I'd arrived, a parade began.
Dozens of Chinese drummers marched through Chinatown and a huge float with giant pink lotuses came down the street. See for yourself!
Upon closer inspection, I noticed that some of the yellow shirts they were wearing had the words "Falun Dafa" on them (which, in and of itself, is an interesting story), but just for fun I decided to pretend that this parade had been thrown in my honor. After all, they had started it just moments after I'd arrived, right? 😉
And the celebration didn't end there.
More Confetti than You Can HANDLE
On my way back to the BART station (which is a good local train system), I noticed another celebration going on as I passed San Francisco's Union Square. Celebratory music was playing, ribbons were in the air, and people were even breakdancing. It seemed like quite a party, and the confetti-level was pretty intense.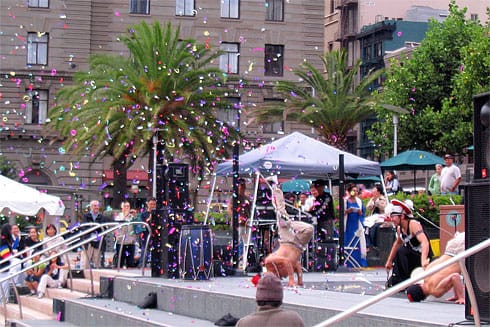 From researching later, I discovered that I'd actually passed by the 17th annual Korean Day Festival; and I gotta say, those Koreans sure know how to mash play on a sweet jambox.
Recap
So that was my first taste of San Francisco in years, and it was just a tiny fraction of what was to come. I would return the following weeks and explore the incredible yet little-known Sutro Baths, Lombard Street, Coit Tower, and innumerable other spectacular sights which I'm very much looking forward to sharing with you in the coming months.
— Bonus —
I hope you enjoyed this overview of my first day exploring San Francisco. As always, Marco the Spacefarer followed me and appears in each of the 27 photos in the photo gallery that accompanies this article. Can you find him in all 27?
The "Where's Marco" game is like Where's Waldo or "I Spy", but more challenging. If you're new to "Where's Marco", learn how to play →
And don't forget to:
Checkout the Wandering San Francisco photo gallery →
Next: 7 Surprises from my Googleplex visit: A Tour of Google HQ
Our next stop takes us deep into Silicon Valley to explore the headquarters of the most visited website on Earth: Google. When we arrived on that gorgeous Thursday afternoon, we weren't sure what to expect, and we certainly had no idea that we were going to see a T-Rex, or have a small run-in with Google security…
---
All photos from this event are in the Wandering San Francisco & Chinatown gallery.