Chemistry. Biology. Efficiency.
While you may not associate these words with a brewery at first, you'll come to see that these words truly sum up the Coors Brewery in Golden, Colorado — the largest single brewery facility on the planet!
During my trip to Colorado, I got the chance to explore this enormous facility firsthand; and I must say, the free self-guided tour was pretty fancy (in a good way). The tour allows you to experience beer-making up close, leaving you with a greater appreciation of how this famous beverage is carefully crafted from hops, grains, and barley, fermented in massive brew kettles (that will probably remind you of Willy Wonka), cold-filtered, packaged, and even served fresh right in the factory. In fact, Coors likes to brag that the free sample you get towards the middle of the tour is the freshest beer you'll ever taste, and I can't say I'll argue. Where can you taste fresher beer than from the factory itself?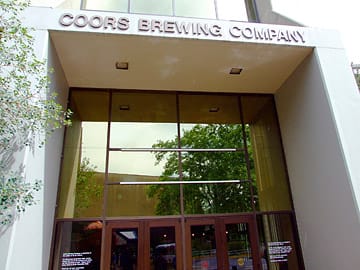 Coors even provides a great little shuttle bus to and from downtown Golden, Colorado to the brewery's main building. And as I emerged from the shuttle bus, I knew immediately we were in the right place, because there was a huge brew kettle outside.
Historic and Huge
The huge brew kettle, which could hold over 8,000 gallons, hadn't been used for decades but instead served as a small monument beside the brewery. Beside the huge kettle was a plaque explaining how it was used for brewing in the original brewhouse during the late 1800s and early 1900s. By the 1950s the kettle was removed from service, but in 1993 the kettle was restored for the 120th anniversary of the Golden Brewery. And, perhaps unsurprisingly, that wasn't the last gigantic brass thing I'd see that day…
Surprisingly Interactive
Inside the brewery, I was really pleased to see that Coors had plenty of hands-on exhibits and descriptions of how the beer-making process actually worked, making the public much more aware of how involved beer-making truly is. (Hint: It's more than just a few steps.) Hops, Grains, and Barley were on display so everyone could literally get a feel for what beer is actually made of. At some parts of the tour, there were even helpful cartoon illustrations about how beer is malted and fermented.
However, hands-on exhibits weren't all that was along the tour. In fact, much of the tour was a transparent look at the brewing process itself. Often I was able to see right onto the factory floor from above, including one of the main computer control rooms which was filled with a rainbow of a billion tiny lights and glowing computer displays.
Yet without a doubt, my favorite sight within the entire brewery was seeing the dozens of massive brass brew kettles. These gigantic kettles, with their graceful curving brass and sheer awesomeness, looked like they were taken right out of Willy Wonka and the Chocolate Factory.
But unfortunately none of Wonka's fizzy lifting drinks were anywhere since these kettles were designed to ferment barley instead of fizz.
The Freshest Beer You'll Ever Taste
After passing the Quality Control Lab (which looked interesting from the outside but was closed to the public), I arrived at the beer-tasting area. A short line had formed in front a counter where a chrome spout the delivered what Coors describes as "the freshest beer you'll ever taste."
They weren't wrong.
Now, I'm not usually a beer drinker; but I had come all that way, so I decided to take the opportunity to try a little. I asked the cute girl behind the counter if I could try some in one of the small plastic cups they had and received a few ounces of the hyperfresh drink.
It was indeed very fresh. And it was welcome relief after being in some of the warmer brewery rooms.
And so I continued down the hall and found myself in Coors' enormous packaging room, full of conveyor belts and other wondrous machines that packaged the beer cans into boxes without a single human ever touching the cardboard. The package assembly line didn't surprise me. What surprised me was the sheer speed of this packaging room. Boxes whizzed by me at what must have been 45 miles per hour, the sight of which was slightly hypnotizing if you gazed at it for too long.
Yes, Free as in Beer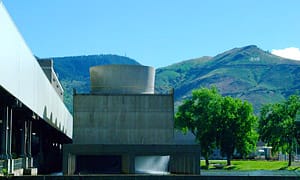 At the end of the tour was the Coors Beer Tasting Lounge where everyone was allowed 3 free beers of their choice. All of the popular Coors beers were on tap, of course; and I've gotta give credit to Coors for being smart about how they designed this tour. They could have been stingy and only gave out the single super-fresh sample provided at the middle of the tour, but by providing 3 free beers at the end of the tour, they encourage people to try out beers they've never had before since there's no financial risk to them. Very smart, Coors.
Even though I'm not a lover of beer, I really enjoyed the Coors Brewery Tour. The brewery was fascinating on more than one level, and you could tell that a lot of effort was put into making the tour engaging as well as educational. You leave the brewery feeling smarter (and not just because you've had some beer!) as well as with a greater appreciation for American ingenuity itself.
If you ever find yourself in Colorado, I highly recommend you experience Coors Brewery for yourself. The tour is completely free (free as in beer?) and since it's in Golden, CO, it's only 15 miles west of Denver so you have no excuse for missing it! (Detailed tour information is at MillerCoors.com)
It may not quite be Willy Wonka's factory, but you can't get much closer than this.
And Now, the Continuation
---
Photos from this trip are in the Coors Brewery Tour album.