When was the last time you beheld the magnificence of nature?
A friend had invited me to explore a hiking trail deep within Colorado's interior, and I gladly accepted. The trail was steeper than the Mt. Galbraith hike, and it took us about a half hour to reach the vantage point which was, not surprisingly, incredibly beautiful.
Come with me though the Elvish woods, past the stream, up to the top of the continent to see what we can see…
An Elvish Feeling…
On the way up, we passed through a patch of white birch trees, and the feel in the air was almost elvish. Looking back now, I wonder what kinds of people lived there hundreds of years ago. A narrow trail snaked through this patch; but judging from its wear, it probably wasn't more than a few decades old.
Further along, we practically stumbled over a small stream running right across the trail! It was perfectly picturesque, and just off the trail even a very tiny waterfall. I decided to stop and take some time to photograph this area since it was so photogenic. I experimented, taking photos with longer exposure to create a more silky effect in the water. The photo to the right has an exposure time of 1/6th of a second, and it's a good example of this silky water effect.
The Magnificent Blue Peaks of the Rockies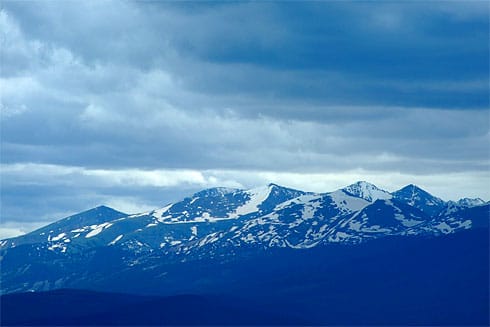 Although it was hard to leave this little stream, I pulled myself away and continued along the path. When I reached the vantage point, I was shocked at just how much I could see. An entire green valley was spread out below me, and to my left I could see the magnificent blue snow-covered Rocky Mountain peaks in the distance and a lake below. Directly in front of me were more peaks, and these were covered in even more snow and seemed to be nearly kissing the sky.
As I was gazing on, huge clouds began to flow over some of the nearby peaks, and I began to realize on a deeper level than ever before why this mountain range has such a profound affect Colorado's weather, as well as the surrounding states. (And I later found out that I wasn't far from the Continental Divide.)
However, the clouds were heading toward us, and we decided it would be best to start heading down before it started raining. We were practically and running snapping pictures as we went. And as it turned out, it started raining just one minute before we got into the car.
Thankfully though, we were able to shield our cameras from the onslaught of rain and get into the car before our jackets got too wet. And both of our cameras lived to see a new day, which was a good thing because later that day we stopped at the Coors Brewery in Golden City to tour the world's largest brewing facility.
In short, it was amazing and enlightening.
And you can read all about that in the next article:
---
Photos from this trip are in the Green Trail to the Blue Rocky Mountains album. All photos in the Gallery can be used as desktop wallpapers because they are high resolution (1920×1440).