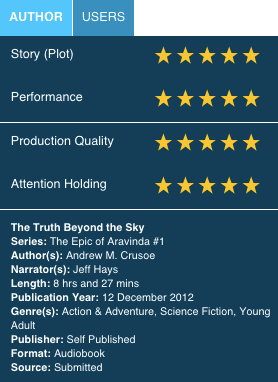 Fantasmic thoughts are manifesting.
In an attempt to document my indie-author journey and let you know about the positive things that have been happening lately, I have two quick updates for you today:
1. AudiobookReviewer rates TRBS 5-stars ★★★★★!
It takes time to review an audiobook, but after a few months, AudiobookReviewer.com has published their review of The Truth Beyond the Sky audiobook!
They gave it 5-stars for ALL four categories (story, performance, production quality, and attention holding.) And I am truly humbled.
Here's the abbreviated version of the review:
"This is a great story…Definitely an amazing adventure for all…The descriptive scenes captivate the imagination and one truly feels a part of the story. I truly enjoyed it and think others will too."

~ River Rose [AudiobookReviewer.com]
2. "Better Know a Jackal" Interview is UP!
In case you missed it, I was recently interviewed by Mike Beasterfeld over at Better know A Jackal podcast. We had a blast, covering crazy hitchhiking adventures, the Golden Age of Geeks, Hip-Hop, The Levels of Art, Transcendental Science Fiction, The Four Agreements, and much more.
It was SO much fun, and that fun really came through in the final product. The interview flowed so well, and I hope that Mike and I can talk again sometime. That interview is here: http://bit.ly/amctalk

gratitude,
Andrew Crusoe
p.s. Work continues on The Island on the Edge of Forever revisions. Still waiting on a few more beta readers to finish up. But in the meantime, this is an excellent time to plot the next book in the series, do research, and perhaps even release another interview soon. More on that later.