When it comes to travel writers, we like to stick together and support each other.
That's why I'd like to tell you a bit about my friend Tui's brand new and very quirky travel guide to Texas called "Unexpected Texas."
I've interviewed Tui before, but when she contacted me about participating in a blog tour for her book release, I thought a mini-interview was well overdue.
So, without further ado, let's find out why this new guide is so cool, and some of the surprising gems about Texas within: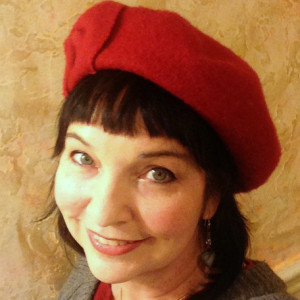 1. Where did you get the idea for "Unexpected Texas"?
Last spring, I took part in the April A-to-Z Blog Challenge. Arlee Bird came up with the idea in 2010, and it has really taken off. Thousands of people participate each year, and it's a great way to meet other bloggers.
The April A-to-Z Blog Challenge is a simple idea, but it's a lot of fun. All you do is post on your blog each day for the month of April, except for Sundays. On the first day, you write about something starting with the letter A, the next day B, and you continue on through the alphabet. Most people choose a theme for their posts. I chose "quirky Texas."
I didn't expect much from the challenge, but I got a lot out of it. For one thing, I quickly realized that "quirky Texas" is a big topic. There's enough material for several alphabets!
What surprised me most, however, was the positive reaction I got from Texans and non-Texans, alike. Texans would usually say something like, "I grew up here and never heard about the Santa Claus lynching," or whatever odd thing I'd written about that day. Meanwhile, non-Texans often wrote things like, "I never wanted to visit Texas, but after reading your blog posts, I'd really like to see what you describe."
Another big takeaway for me was how misunderstood Texas is. People, including me, often have very preconceived ideas about the Lone Star State. As I write in the Introduction to "Unexpected Texas":
"As if I had misjudged an acquaintance, I realized that Texas has great stories to tell, but only if you ask the right questions. My earlier assumptions, based on the veneer of Texas, had blinded me to its depth. And while I wasn't sure what to do with it, I began amassing quirky history and lore about this fascinating state. You hold the result in your hands."
After the blog challenge ended, I realized I had enough material to create a book about offbeat and overlooked Texas travel — so I did!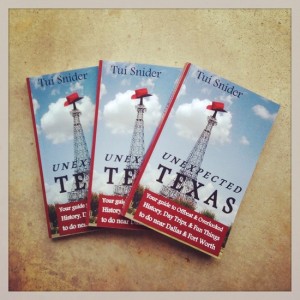 2. What do you hope people come away with after reading "Unexpected Texas"?
I want people to:
Understand that there is much more to Texas than what headlines and stereotypes suggest, and that this applies to every spot on the globe, not just Texas.
Realize that the world around you is only boring if you take other people's word for it.
Be inspired to pay more attention to their own hometown, wherever they may be, and start having their own adventures.
3. Do you have any advice for other bloggers looking to write their first travel guide?
I'll let you in on a secret: You don't have to rack up frequent flyer miles to be a travel writer. Sure, I've written about Venice and Pompeii, but most of the time, I write and sell travel articles about places within a day's drive of my current home. My travel motto is that "Even home is a travel destination." I truly believe that!
---
You can find Tui all around the web. She loves it when people say Hello (as do I), so be sure to checkout "Unexpected Texas" in the links below.

And while you're at it, why not checkout my Mythic SF novel? (You know, with it being free today and all.) Dubbed a "A Coming-of-Age story of the Highest Caliber", The Truth Beyond the Sky, is totally free starting today in the Kindle store. In a possibly crazy move, I'm doing an unusually long 3-day promo. (Most promos are only 1 or 2 days.)
Now is your chance to experience the Journey: full of ADVENTURE, loss, hope, terrible beasts, ancient artifacts, legendary evil, great mystery, profound peril, and a finale that will stay with you. Again, it's totally free during the promo (& cheaper than a latte afterward):
http://bit.ly/readTBTS
(And thanks in advance for resting your eyes on my work. It's incredibly humbling.)
Once you grab that, be sure to grab "Unexpected Texas" and checkout Tui all around the web!