What would you do if you saw a rose that looked exactly like a Hawaiian tie-dye shirt? You might gasp and gaze at it for a while, right?
What if I said you could see not one, but thousands of roses like this, the most amazing roses in all of North America, completely free of charge?
Amazingly, all of this is a reality at the International Rose Test Garden which is tucked away in the West Hills of the City of Roses. That's right, within Portland's Washington Park, this world-famous rose breeding facility produces some of the most incredible roses you could ever imagine. The colors alone will blow you away.
Since the story of my visit to the astounding International Rose Test Garden is best told through the photos I took during my visit there, this article is presented as a photo essay. That doesn't mean they're all photos of roses, though. As you'll soon see, the value that the Garden provides goes beyond that of mere roses.
Far beyond.
1. The Most Amazing Hues You've Never Imagined
When it comes to understanding the beauty of what I saw at the Garden, this photo is an excellent start. Notice how the orange hues toward the center of the flower give way to more violet hues to the outside of the bloom. This kind of hue variation is only possible through careful crossbreeding.
The Garden is basically a crossbreeding laboratory/playground, and the results are often stunning. And they've certainly had enough time to perfect their art considering the International Rose Test Garden was founded in 1917 which makes it the oldest continually-running test garden in the United States.
2. Devin Phillips: An Unexpected Jazzy Addition
The Flow of Travel continued to stay with me throughout my time in Portland, the most obvious evidence being that I just so happened to arrive at the Garden at the perfect time: a Saturday during their annual summer concert series. And on that Saturday, I was treated to a truly delicious jazz quartet led by Devin Phillips. I didn't even know there was going to be a concert that day, but it worked out beautifully.
When I first arrived, I sat a while and absorbed the music, but I soon wandered away in order to have as much time as possible to capture what turned out to be the most exotic and incredible roses I have ever seen in my life.
3. Embracing the Garden as a Holistic Experience
I soon realized that visiting the Garden is a truly holistic experience. That is, I started realizing that the whole of all that was around me added up to much more than the sum of its parts.
As I was taking time to photograph this and other roses up close, I could still hear the sound of jazz music as it continued to play in the distance, and I loved the ambiance of the whole experience. With these beautiful sights surrounding me, sweet smells in the air, my hands on my camera, and the quiet, soothing sound of jazz in my ear, Washington Park started to feel like a tiny piece of Heaven.
4. Big Pink: Looking Back in the Opposite Direction
At one point, I looked up and realized that another pink object was also in my view, Big Pink. You remember Big Pink, don't you? It's also known as the Bancorp Tower, and I'd been there just a day before. From the 30th floor I'd seen a spectacular view of Portland and the hills beyond.
Now that I was on those same hills I'd seen the previous day, looking back in the opposite direction, I felt that my explorations of Portland were nearing their completion, at least for now. And that felt good, like finishing a delicious meal.
5. The Rose You Wish You Could Eat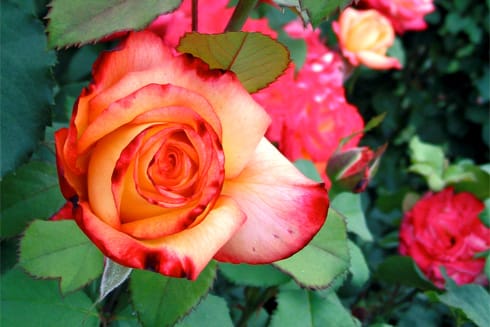 The rose pictured above is one of my favorite roses of all time. A member of the class floribunda, the name of this rose is "Rainbow Sorbet", and it won the Portland's Best Rose Award in 2008 for being the highest-rated rose by a panel of over 100 judges. And it's not hard to see why. Before this, I'd never thought of a rose as being delicious, but it looks almost edible.
I mean seriously, have you ever seen a rose like this? It's almost as if the Spirit of Hawaii courted a mango, and they gave birth to a rose.
Very stunning, especially in person.
6. Otherworldly Blooms of Cone-Shaped Petals
Here's another eye-popper. The uniquely cone-shaped petals of this bright magenta rose were amazing to see up close. I'd never seen anything like it on a flower before, and I was surprised that I hadn't seen it listed as one of the winning roses since it was one of the most unique and beautiful roses in the garden. Almost seems alien, doesn't it?
7. The Most Delicate Colors Your Eyes Can See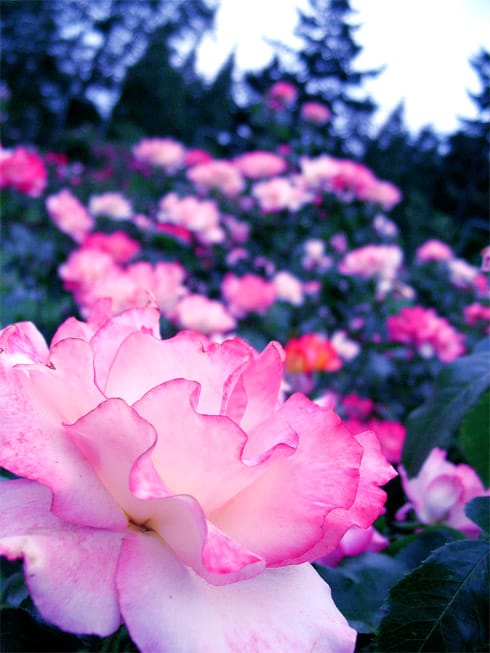 Now these were just incredible. I love how each rose in this entire patch of roses was tinged with a bright fuchsia hue on the edges of its petals. Clearly, these roses are another excellent example of what hybridization is capable of. Unfortunately, the name of this particular type of flower was not recorded at the time of photographing it, so I have no way of knowing it's specific name. (I would, however, appreciate any help in the comments.) But as Shakespeare is oft-quoted as saying, "A rose by any other name would smell as sweet."
And, coincidentally enough, the Shakespeare Garden was just nearby…
8. Shakespeare's Favorite Flower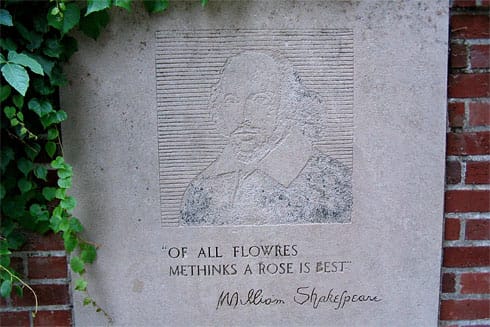 After I'd finished wandering around the main garden area, I started discovering smaller sub-gardens. This plaque near the entrance of the Shakespearean Garden featured an engraving of Shakespeare and a quotation by him, stating "Of all flowres methinks a rose is best." And, perhaps best of all, a recreation of his actual signature was below the quotation.
Speaking of, is it just me or is that signature rather shaky? Of course, we don't know where this signature was lifted from. For all we know, he signed a document while riding on some type of wagon or something, so I'm willing to cut Shakespeare some slack here. After all, who am I to guess what kind of writing implement he was using all those hundreds of years ago?
9. The Beach Fountain: Entertainment for All Ages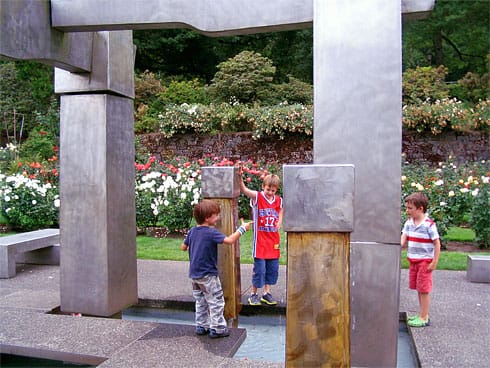 Toward the end of my time there, I stumbled upon some kids playing on the Beach Fountain near the center of the park. The Beach Fountain is an odd assortment of boxy modern shapes, and the three boys who were playing around it seemed to really enjoy its odd design. I found myself wondering what I would have thought of this garden if I had first visited it as a child.
I don't remember being too interested in flowers as a kid, so it's very possible that, to a child, this fountain is the only source of entertainment in the entire park.
10. The Robertson Tunnel: An Engineering Marvel
Alas, soon it was time to go.
After a short wait beside the famous Robertson Tunnel, I boarded the light-rail and saw very little out the train's windows as it plunged into the dark tunnel through the ancient basalt rock. After a few miles, the train emerged out the other end of the Tualatin Mountains, and I found myself in the heart of Portland once more. And while the MAX Light Rail system may be taken for granted by some, it struck me as a small miracle that the journey to the West Hills and back could be so easy. That is, it's only easy because of the engineering marvel that is the Robertson Tunnel.
As it turned out, that was the final photo shoot that I did in Portland, and I can't think of a better way to conclude my explorations of the City of Roses. I'd been there for longer than I'd planned (mostly because of the heat wave I mentioned before), and it was time to move on.
It was time to head south.
Conclusion
If you visit Portland during the warmer months, you'd be a homunculus if you didn't consider visiting the International Rose Test Garden in Washington Park. Portland isn't called the "City of Roses" for nothing! Not only is this amazing experience available free of charge; but it's easy to access via Portland's light rail, and it takes less than an afternoon to explore. In fact, I only spent a bit over an hour exploring the entire place and shooting all of the pictures you see above.
So next time you visit the City of Roses, be sure to take the time to smell a few of them. You'll be so glad you did.
Checkout the International Rose Test Garden photo album (and find Marco) →
If you're new to "Where's Marco?", learn how to play →
Next: The Sheer Vibrance of Lithia Park
What do diversity, redefining up and down, and J.S. Bach have in common? Find out in the next article, a photo essay that outlines the astounding brilliance of one of my favorite parks of all time:
---
All photos from this event are in the International Rose Test Garden album. With so much free, high-quality content, why not tell a friend and share this article?