About a year ago, I revised an old widescreen wallpaper I created back in 2002, and the result was Ocean of Imagination. I was pretty happy with the result, and I could even tolerate using the wallpaper for more than a day. (This is rare, indeed.)
Recently however, I've felt the need to create a few variations of each wallpaper to suit different situations such as the Snowy Sight wallpapers, the MashUp Snowy Peak wallpaper, and the more recent Crescent Nightfall some of which came in "deep" versions which means they work well at night. Something about using a darker background feels more natural at night, and this makes perfect sense. If your wallpaper's overall brightness is closer to the level of ambient light around you, it will be easier on your eyes.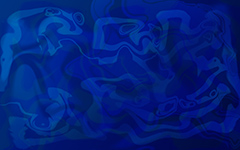 This trend of wallpaper variations continues today. After some fighting with blend modes and color harmonies in Photoshop, I'm happy to present: Ocean of Twilight. It has a kind of swirling deep blue character that reminds me of the Pacific ocean. Check it out in widescreen.
Who knows, by using a wallpaper geared for night time use you may actually be able to relax and get to sleep early for a change! 😉