Often when I travel, events work out so well (and so elegantly) that they would have been impossible to plan that way. And to say my visit to Las Vegas was like that would be an understatement.
As per usual, I caught a ride out of San Jose using Craiglist Rideshare (I outline in detail how I leverage Craiglist to travel safely in this article). I was quite excited to be moving onward once again, especially since I would get to explore a city that I'd never had a chance to explore in depth before: Las Vegas.
Believe it or not, I actually looked forward to the long drive down. A day earlier, I'd called my carpool partner and learned that he too was a member of Couchsurfing.org, and overall I got a good vibe from him. From the conversation, I suspected that the drive down would go very well.
It did. We had some great conversations and blasted Flight of the Conchords music as we drove through the afternoon and into the night (passing a small "fake" Vegas along the way). And when he dropped me off at my host's place that night, we made plans to meet up the following day. Turns out, he'd never explored Las Vegas, either.
The following day, we met up again after breakfast and started exploring. As I said before, neither of us had explored The Strip before, and we had the movie-equivalent of an entire montage of fun (which is why I've formatted this article as a photo essay). And although I'm not a fan of gambling, I did try some video poker (purely for the cultural experience, I assure you), and I only ended up netting a $2 loss over a few rounds. Not bad for a gambling newbie, I'd say. My friend however, lost a bit more than that, but not as much as he would have if he hadn't asked me to be his poker chip holder. That day, I became his willpower. It was interesting.
We also stumbled across an ancient tusk carving, a tiny Venice (complete with gondolas), beautiful stained-glass flowers, a free roulette lesson, an animatronic tree, and an amazing fountain show at the Bellagio that evening. And did I mention all of that is completely free? While Vegas can be expensive, it really depends on what you decide to do. There are many cheap and free activities to choose from, too.
Overall, my first day in Las Vegas turned out to be a great overview of the city. At the very least, I highly recommend you explore The Venetian and catch the Bellagio fountain show which happens each evening at the top of the hour. Unmissable!
Photos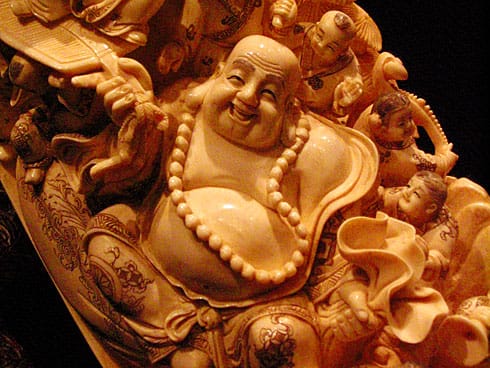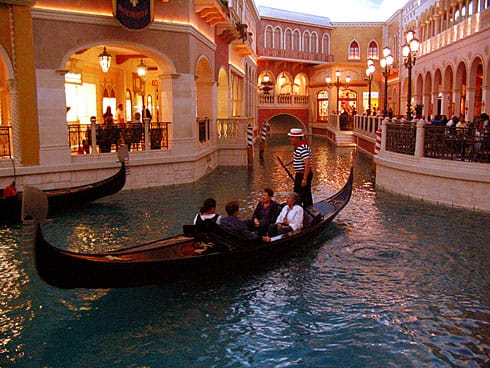 — Bonus —
Marco the Spacefarer appears in all 15 photos in the accompanying photo gallery. If you're new to the "Where's Marco" game, it's similar to "Where's Waldo" or "I Spy", and it's totally fun!
Learn how to play →
Then find him in the photos! →
Coming up Next:
I stumble across the most beautiful desert flowers I have ever seen. Have you ever seen a Red Bird of Paradise? You will. The next article includes these stunning desert blooms, as well as those of the Orange Jubilee:
---
All accompanying photos are in the Las Vegas Strip photo gallery. With so much free, high-quality content, why not tell a friend and share this article?