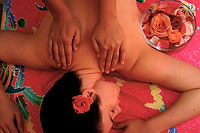 Hello! You may give me a massage here… Or if you don't wish to relaxify me, I'm open to messages as well. As long as you aren't asking to guest post, I'd LOVE to hear from you!
And, as stated in the Privacy Statement, the contact information you provide here is only used to reply to any messages you send. (I dislike spam as much as you do.)
Again, I do not accept guest posts, so please don't waste your time by asking to guest post.
That being said, please feel free to contact me. Questions? Comments? Gifts from my Amazon Wishlist? I'm open.
You may contact me via:
amc AT (the domain you're currently on)