Welcome to the home of The Epic of Aravinda. (For more info on the author, see the Andrew's bio farther down.)
What is the Epic of Aravinda?
The Epic of Aravinda is a Mythic Science Fiction book series that takes you beyond ordinary spacetime, into the realm of Timespace.
Our story begins with…
The Truth Beyond the Sky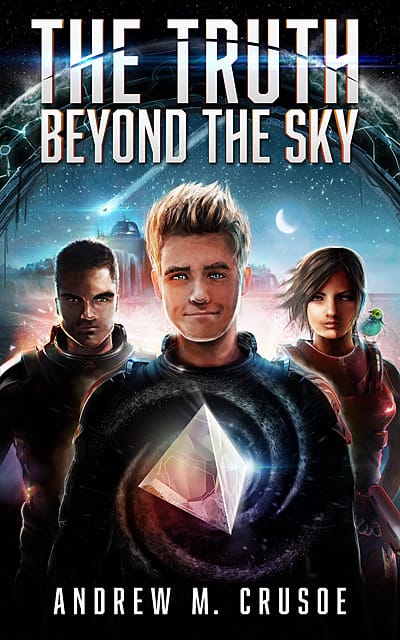 Award-nominated Mythic Sci-Fi
Twelve years after his mother's disappearance, Zahn makes his annual hike up to the island peak to sleep above the clouds — only to be awoken by an alien object thundering down from the sky, changing the course of his young life forever.
At last, Zahn has the chance to learn the fate of his mother, but the opportunity comes with a price: leave his world in a self-aware starship, with no guarantee of return. Now on the verge of twenty, he leaves his planet, bound for the galactic core where he encounters the vicious Vakragha, an ancient species that craves the largest prey: entire stars. Bent on tearing at the fabric of spacetime itself, the Vakragha scream toward Zahn's home. Only the Tulari, a stone that can heal these fissures, offers any hope to Zahn and his new friends.
But saving his world from total enslavement isn't all he has to worry about. Just when Zahn lands on a moon the Vakragha stole, he makes a breakthrough, finally learning his mother's true fate. Now he is faced with a decision that could either save his world or doom it forever.
What Professional Reviewers say:
"This is a great story…Definitely an amazing adventure for all…The descriptive scenes captivate the imagination and one truly feels a part of the story. I truly enjoyed it and think others will too." ★ ★ ★ ★ ★
"…it was tough to look away. What's really interesting about this book is how multi-layered it is. At its base, this is a book about a boy who is in search of his mother. However it's so much more than that. Zahn's story manages to pull from the world around us, while also incorporating elements of mythology and hero epics. This is a coming-of-age story of the highest caliber."

~ Jessica Nottingham [HopelessBibliophile.com]
"A swift & compelling read. It's fun and I recommend it if you enjoy science fiction epics."

~ Michael Coorlim [BookNouveau.com]
"I was immediately drawn in by the vivid descriptions…The author has a knack for fully immersing a reader into the hero's plight, and I felt like I was hurtling through corridors of light alongside Zahn."

~ Erica Lane [FantasyBookLane.com]

More reviews are on the Reviews page.

And if you haven't yet, you can watch the 3-minute book trailer below:
About the Author
Traveller. Author. Designer. Podcaster. Net-diver.
As a citizen of Earth, I'm primarily interested in growth and expression, not only for myself, but for all. When I focus on these ideas, I feel the most alive.
I was blessed to grow up with a mixture of mellow Bay Area breezes and harsh Wisconsin winters. After studying design in college, I began traveling solo, intent on cultivating a greater appreciation of the massive country that I grew up in. Around this time, I also started seriously delving into The Law of One books, which I'd discovered through David Wilcock's work. (Get them on Amazon or read them on LawofOne.info for free.) Within those books, I found an internally-consistent philosophy that aligned with logic, ancient history, and my own still small voice. In brief, the books put forth a lens with which to look at not just the Earth but the entire galaxy as an evolving system, divine and sacred in its own right. Yet it wasn't until much later that the idea for a fictional story based on that philosophy finally hit me.
In the intervening time, I created my first website. Seen as a passive-income experiment, I wrote hundreds of travel articles, spanning from travel philosophy to in-depth studies on hidden and under-appreciated destinations. I had always written, but precisely because I had always done it, I took it for granted and didn't consider it as a valid career path until later.
Yet when I returned from a transformative 5 ½ months on the road, something had shifted in me, and the sprout of an idea finally broke through the soil of my mind: I would write a Science Fiction series based on the Law of One. I took a rough outline I'd started a year before, originally inspired by Joseph Campbell's monomyth structure, and worked to develop it into a fast-paced science fiction novel with a true philosophical backbone. And after three years of outlining, writing, and revising, I released THE TRUTH BEYOND THE SKY to the Kindle store, the first Science Fiction novel based on the Law of One philosophy.
The book garnered dozens of 5-star reviews, received glowing write-ups on pro reviewer websites, and qualified for an ACX stipend, which attracted a marvelous narrator for the audio version of the book, now available on Audible.com. And because of the support of my remarkable readers, I'm thankful to say that it has now grown into an award-nominated series, called the Epic of Aravinda.
If it's not already abundantly clear, I strongly believe that fiction is a powerful method to teach timeless ethical and evolutionary principles. And to this day, I remain independent in my operations, seeking no publisher to act as a middleman between myself and my readers.
In short, I rely on you and my other faithful readers to spread the word and support Science Fiction with a philosophical backbone (and a heart).
The best way to do this is to read one of my titles and then review it. My books are priced aggressively to allow everyone to experience the worlds of Aravinda.
Enjoy on:
Thank you for supporting an independent author!

Interviews & Appearances
In addition to occasionally hosting The Aravinda Show, I also have appeared in various other podcasts. I expect this list to grow, and I'll endeavor to keep it up to date.
More about the Author
To contact the author, visit Andrew's contact page.
To learn more about the author, visit Andrew's Amazon page.
To learn about the flexible license my books are released under, view the human-readable summary of the Creative Commons BY-NC-SA license.